Whynter ICM-200LS Stainless Steel Ice Cream Maker, 2.1-Quart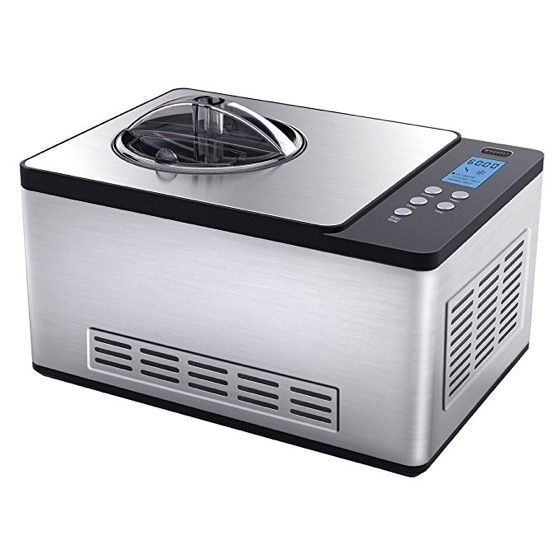 I was more than a bit envious the other day when I found out a good friend had picked up this gem of a kitchen appliance on a recent sale. While I have an ice cream bowl attachment for my KitchenAid mixer, this all-in-one unit brings a level of convenience that is completely ridiculous.
One big advantage is you don't have to remember to freeze your mixing bowl ahead of time. Lack of memory and lack of space in my freezer makes it nearly impossible to mix up a batch on the spur of the moment. Oh to be so lucky to mix up the ingredients, throw it in the freezer and have a lovely dessert just an hour later.
Some ice cream makers are a bit loud, but this one is well below the level of conversation so it doesn't require you to shout over it if you're in the kitchen. You don't even notice it in the next room until the timer alarm goes off telling you the batch is done.
While certainly not a need for everyone, if you entertain regularly or make up batches of ice cream to give away in the summer, this could be an excellent tool for you.
Product Details
Take on dessert making like never before! Make delicious homemade ice cream that you can fully customize to taste with the Whynter ICM-200LS 2.1 Quart Ice Cream Maker. Incredibly easy to use, you can create delicious ice cream, rich creamy gelato and sorbet all in the comfort of your own home. Ideal for entertaining, this high capacity unit makes up to two quarts of your favorite frozen dessert in a single batch. Our full featured ice-cream maker offers premium functions not available in budget ice cream makers. A built-in powerful compressor freezer allows for continuous use without the inconvenience of having to pre-freeze the mixing bowl. Not only is it so much easier, it also tastes a whole lot better. The Whynter ICM-200LS features an Extended Cooling function that prevents the mixture from melting and a Motor Protection function that stops the motor from churning to prevent overheating or damage to the motor when the mixture becomes solid. This unit also includes an electronic timer, ice cream scoop and easy-to-follow recipe guide. The sleek stainless steel exterior and soft touch LCD control panel will accent any kitchen counter. This will quickly become your new best friend. You will never again have to wait hours or take up freezer space before being able to make your favorite frozen dessert. This unit includes an electronic timer, temperature display, ice cream scoop and we'll even send you some secret recipes on request!.
* A portion of each sale from Amazon.com directly supports our blogs

Podcast: Play in new window | Download
Subscribe: RSS