Jun's Kitchen is a great cooking show out of Japan, the food is amazing and his – oh, so well behaved kitties — are a joy to watch. I have been subscribed for a few months and love seeing his shows pop up in my daily viewing list.
This udon noodle recipe caught my eye as we love udon here and I think it would be great to have a supply of fresh noodles for soup whenever we want. It's not exactly easy, but seems doable.
Tempura Udon Noodles via Jun's Kitchen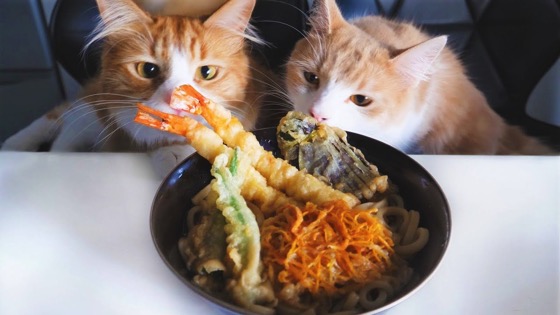 【Ingredients serves 3】
-Udon Noodles-
300g flour
140ml water
15g salt
-Tempura (batter)-
110g flour
200ml (1 egg + water combined)
+ Any ingredients you want
I used shredded carrots, eggplants, okra, and shrimp.
-Soup-
900ml water
10g kombu
20g dried Sardines
20g thick bonito flakes
5g thin bonito flakes
---
Learn more about udon noodles with this book


* A portion of each sale from Amazon.com directly supports our blogs
** Many of these books may be available from your local library. Check it out!