From A Gardener's Notebook with Douglas E. Welch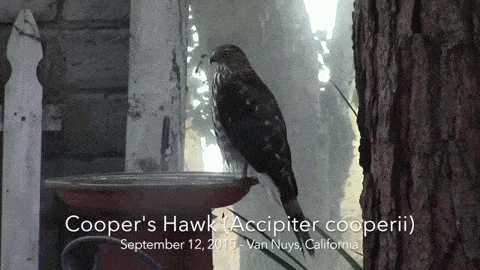 A regular visitor to the garden, this Cooper's Hawk appeared on both September 11 and 12, 2015. Two clips as the hawk sis, drinks and bathes in the birdbath.
From Wikipedia…
Cooper's hawk (Accipiter cooperii) is a medium-sized hawk native to the North American continent and found from Southern Canada to Northern Mexico. As in many birds of prey, the male is smaller than the female. The birds found east of the Mississippi River tend to be larger on average than the birds found to the west.

Cooper's hawk was first described by French naturalist Charles Lucien Bonaparte in 1828. It is a member of the goshawk genus Accipiter. This bird was named after the naturalist William Cooper, one of the founders of the New York Lyceum of Natural History (later the New York Academy of Sciences) in New York. Other common names; big blue darter, chicken hawk, hen hawk, Mexican hawk, quail hawk, striker and swift hawk.[2] — Wikipedia
Buy my photos on a variety of products directly from RedBubble
---
Help Support A Gardener' Notebook!
Podcast: Play in new window | Download
Subscribe: RSS