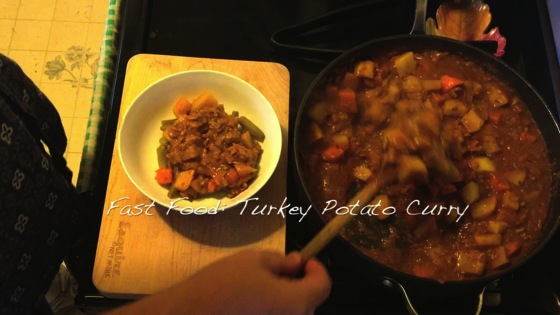 This curry is one of our "Recipes in Rotation" — foods that we make here at home on a regular basis. It took us a while to come around to making curry, but this recipe made it both easy and tasty — if not exceedingly traditional.
In the video, I serve this over green beans, but you could do the same with your favorite vegetables, rice or just with some naan bred on the side.
You can find my original Recipe in Rotation blog post on this dish in this blog post:
Recipes in Rotation: Turkey Curry with potatoes and sweet potatoes
For more Recipes in Rotation, visit http://welchwrite.com/blog/category/recipes-in-rotation/
For more of My Word on Food, visit this YouTube playlist
Turkey , potato and sweet potato curry

Ingredients

3-4 Tbsp vegetable oil
1 pound ground turkey
1 chopped onion
2 chopped garlic cloves
1-2 chopped fresh red chiles (optional) – I substitute a dash of red pepper flakes and cayenne pepper
1 Tbsp peeled ginger, grated fine
1 cup water
Salt and black pepper to taste
1 Tbsp garam masala
1Tbsp Curry powder
1 teaspoon turmeric
1 teaspoon cumin
1 teaspoon ground coriander
2 large Yukon Gold potatoes, peeled and cut into 1-inch chunks
1 large sweet potato, peeled and cubed
2-4 Roma or other plum tomatoes, diced or 1 cup tomato sauce
1 cup fresh or frozen peas
1/2 cup (loosely packed) chopped cilantro or parsley

Directions


Heat the vegetable oil over medium-high heat in a large pot with a lid. When the oil is hot, add the ground meat, spreading it out over the pan.
Cook the meat without stirring, until it begins to brown.
Add the chopped onion and chiles. Stir and sauté for 4-5 minutes, or until the onion begins to color a bit. Sprinkle salt and pepper over everything.
Add the grated ginger and garlic, mix well and sauté for another 1-2 minutes.
Mix in the spices and cook them with the meat and vegetable mixture. Watch closely to insure they do not burn.
Add water, tomatoes (or tomato sauce) and the potatoes.
Stir to combine and cover.
Turn the heat down to medium-low and simmer for 15-20 minutes, or until the potatoes are tender.
When the potatoes are tender add the peas. Mix well and cover the pot. Cook 2-3 minutes.
Add salt and pepper, if needed, to taste.
Right before you serve, mix in the chopped cilantro. Serve alone or with flatbread or white rice.
Music: "Shiny Tech" by Kevin MacLeod (http://incompetech.com) by Creative Commons License