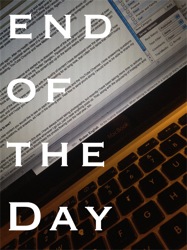 We had 2 large trees trimmed today and it immediately brought to mind the metaphor in the title — let the sun shine in. The back too where we have our offices tends to be a bit dark due to its position and all the surrounding trees. Today, though, it brightened moment by moment until it was quite a dramatic change. The truth is, any big change can be just as illuminating in your work or you life. Sometimes you have to open up the trees so you can see the sky again.
I now for myself that I carry a lot of cruft about all the time. It is the accretion of life that we all attract to us. I have to actively and conciously remove this cruft from my wallet, my computer, my workspace and my life on a regular basis. It is simply too easy to collect ink around us and let it hang about long after it is useful. The same could be said for ideas, too. We often hang on to outmoded concepts and thoughts long after they are useful, disproved or supplanted by newer, better ideas.
Holding on to anything too long only holds us back. It creates an extra inertia on all our thoughts and movements — slowing us down, tripping us up, making life more difficult that it should be. So, every so often, it's time to call in the tree trimmers to open up the canopy again and let the sun shine in anew.
Previously on End of the Day: