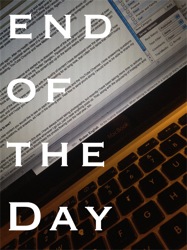 Sometimes it is the simplest days that can be the best. After doing some work this morning, we headed out to Santa Clarita to visit with some friends. There was talk, catching up, a simple dinner and then an evening spent lounging in the pool.
Many people might see this as staid and boring, but for us this is a great way to spend an evening. We spend a lot of time trying to do a lot of things and forcing ourselves to slow down and get away from work can be critical to our general well being. If you don't build in some pressure release valves, pressure can build up to dangerous levels and cause a crash that is both unproductive and difficult to recover from.
Sure, we could go out drinking, spend large amounts of money on expensive meals or trips, but we find it far more logical to hang out with friends — for free — share a nice bottle of wine and stare at the stars. You have to remember that you don't have to go very far just to "get away from it all." You best vacation might be in your own backyard, or that of a neighbor, or a friend.
We can all be tied up in the idea that our vacations, our cars, our clothes or even our lives must be dramatic, somehow. We live at the extremes of existence so much, we can't appreciate the simpler joys of life and living. Paying a lot for a bottle of wine doesn't make it better, necessarily, only more expensive. A cheap bottle of wine shared with friends will always hold more joy than an expensive bottle emptied alone. Don't lose your best experiences in expenses. Take joy in what you have and who you have. These are the things that really matter — and often the simplest to achieve.
Tonight's post is probably a bit short. I am tired from swimming and hoping to sleep well after all our activity. I am tapping this out on my iPhone as I lie in bed and as soon as it is posted, I am going to enjoy yet another of the simple joys of life — a good night's sleep after a fun day.
Previously on End of the Day: