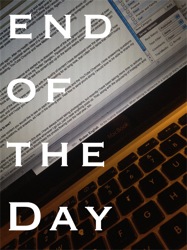 As is part of my normal blogging and new media processes, I posted about a few books today. The fact is, iI'm always posting about unique books that catch my eye, Sometimes I immediately read them and at others I collect them up in my "to read eventually list". In each blog post, I typically link to Amazon.com, but this isn't necessarily to have you purchase the books there, but rather as a source for reviews and more information about each book. As you might know already, I do have an Amazon affiliate account, so I make a few pennies on each purchase that is made, but that is secondary to the great information and reviews that are to be found there. Of course, the Amazon affiliate income does help to pay for some web site cost and such, so every little bit helps.
Our neighborhood Free Little Library — Click for photos and video
It's always important to remember that even in today's high-tech age, you can find so many books available at your local public library — in so many forms. Your local library is free — you've already paid for its services with your tax dollars. These days it's so easy to have a book pulled from another branch and sent to  your local library or —  even more importantly, read books in electronic format via the freeKindle, OverDrive and other applications. These apps run right on your iPhone, iPad or other mobile device. In most case you can also read these books directly in your compute, if needed or desired. From most libraries you can also get audiobooks music videos and more. In one personal example, we were in Orange County yesterday visiting friends and family for the holiday yesterday. Since we don't have Wifi at that house, I knew I wanted to have some reading material on hand to occupy myself before people arrived. Using the free Zinio app (and my LA Public Library card) I was able to download a collection of traditional magazines like Smithsonian, Food Network Magazine, Saveur and more directly to my Kindle Fire. Then, even without an Internet connection, I was able to kick back and read much like I would have with paper magazines in the past.
We have always been big users of libraries. I even worked in the University Library during my college years.  After filling our apartment with books, Rosanne and I agreed that we wouldn't purchase new books until we at least check them out of the library, if available. This was to make sure that the book was important enough to actually want to have a copy in our own personal library. So many books are a quick read, but not something you want around for rereading later. This is especially true of many of the business books that I read. With those books, I typically pull out one or two great ideas, but I don't really need my own personal copy.
There are also many sources for free public domain books like the classics which you have always been "meaning to read" like Don Quixote, The Three Musketeers, Darwin's Origin of Species, Keats and Shelly poems and more. One of my favorite sites for that type of reading material is the Gutenberg.org website. You'll also find many of these public domain books, for free, available via Amazon.com as a Kindle book. This is my typical source when Joseph needs a classic piece of literature for one of his school classes. He has an older Kindle Touch that hold those books as well as some of his purchased text books for easy availability and use.
In these days of higher and higher tech, it may seem anachronistic to use about your local public library, but there are many great resources available for you there every day. In many way, today's public libraries are even more important and useful than they were in the past. Check them out!
Previously on End of the Day: