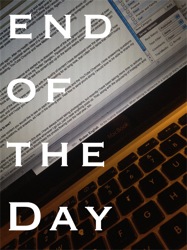 Rosanne and I love a bit of theater. We met in the theater, I proposed in that same theater. I have done nearly every job in the theater during my college days and even have my Bachelor's Degree in theater. Despite our enjoyment of theater, we don't see nearly enough of it these days, so we made a promise to ourselves to get out more frequently in 2014. Joseph has helped with this by being in 3 productions at his high school in his first 2 years with many more to come, I would guess.
Scenes from Vanya and Sonia and Masha and Spike at the Mark Taper Forum
Today, Rosanne got us some great tickets (See $20 HotTix Information) to see Vanya and Sonia and Masha and Spike at the Mark Taper Forum. We packed up Joe, who invited his girlfriend along for a Sunday Matinee double date. I haven't laughed so much in a long time. This show is the epitome of what great theater can be. Funny, witty. artistic, great performances and I absolutely LOVED the set design (one of my focuses in college). If you have a chance to see the show, I would highly recommend it. It is accessible for nearly everyone, but anyone with an even passing knowledge of Chekov will find and even deeper level of pathos and humor in the show.
As good as today's show was, I think that bad theater is a lot like bad pizza. (LAUGH) Even when it is bad, there is something good to be found there. You can learn as much from troubled productions as you can from Tony-worthy performances. One of the largest benefits and joys of theater is participating in it — whether as a member of cast or crew or sitting in the audience, working with the actors through you gasps, laughs, applause and shouts of joy. Anyone who has ever been on stage can tell you this. The audience is an active participant in the performance and a great audience can make a good show great or a great show a bore. There is a magic that happens in theater that, for me, outweighs most of the other great experiences of my life.
Joseph preps for his role of Lysander in A Midsummer Night's Dream at Providence High
Despite what you might think of this town as "Hollywwod" and the "Movie Factory" of the world, there is an abundance of theater here. There are plays and musicals of all shapes and sizes performed nightly here in Los Angeles and for the price of a couple of cafe latti you can have a great time watching great performances. You can even see great theater for free. We are regular attendees of the Independent Shakespeare Company's free Shakespeare in Griffith Park each summer. We have been for at least 4 years running and never fail to have a great time. Sure the actors have to compete with poor acoustics, howling coyotes and low-flying police choppers, but, as I said before, there is a magic that happens there in the canyon each evening. Free theater doesn't mean bad theater, but it does give you a way to participate without risking anything more than your time and a show walk to the show site. This summer's shows include Twelfth Night, Richard III and Taming of the Shrew. I look forward to seeing them all.
For several year's running, I have hosted and participated in a number of live readings which we stream live and record to share via the web and YouTube. My event is an annual reading of A Christmas Carol and our friend's Keri and Michael have mounted a yearly Halloween reading and also 2 ambitious productions of Love Letters From History and Road to Independence (a four part series dramatizing the events of American Independence) Each year we try to bring in as many friends as possible, some for their first time. Universally, when the show is over, these new people say something very similar — "Wow, that was fun!" Of course, as theater people, we know it is fun. That is why we do it, but it is a great kick to introduce others to joy of theater, too. The more the merrier, I say.
If you haven't seen a play recently, glance at the theater listings in local publications, do some Google Searches, talk to your friends and go see a show. Join us for an outdoor Shakespeare performance this summer. Come and read a section of Christmas Carol or other readings and experience the magic of theater for yourself. I don't think you'll be disappointed.
The results of my performance in Spider Baby The Musical back in 2009
Previously on End of the Day: