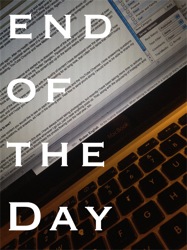 Anyone who knows us would never describe my wife and I as "shoppers." We don't shop as a recreational activity and sometimes, for me, getting me in the mood to go clothes shopping could be a month-long exercise. That said, I spend so much time working here in the home office that one sometimes I NEED to get out. After completing my usually daily tasks, I decided I wanted to hit the mall, not really to buy anything, but rather to get out in public, walk around a bit and refill the experience tanks with visuals so that I could come back and be creative and productive.
We got lucky on this trip, as we often do, by engaging in our usual methods of stalking the sales racks and shelves that all retailers have in their stores — end the trendiest ones. We know exactly where Pottery Barn stashes their sales, and William Sonoma and most of the other big name retailers. While most times we come away empty-handed, today I was able to pick up 2 new silicone spatulas for half the normal price and some Moleskeine pens for 75% off. These pens are way over-priced normally, but at the price of a normal roller ball pen, they were an easy purchase. It is rare I ever actually buy anything at Papyrus, where I picked up these pens, but I usually take a least a quick turn through the store, just to see what might be hiding on the sale table at the back.
Pen designed to match well with Moleskeine Journals I carry around
I would have never thought of buying one of these at full price, but since I regularly carry around a Moleskeine Journal, it was a great little find.
The William Sonoma spatulas were much-needed replaces from 2 that I have basically used up. They were probably over 5 years old, so I wasn't too disappointed in their longevity, as I used them a lot.
A set similar to the one I picked up on deep discount
The important lesson I want to reinforce, though, is that you should be looking for deep sales wherever you go. Consider it a fun game that is full of surprises, usually very pleasant ones. I 'm not talking about the typical weekly or holiday sales though. Those sales are often too small to make it worthwhile to got to the store, but more designed to entice folks in so that they might sell them higher priced items.
Keep a list of those items you NEED (or maybe just those you want) so you can easily remind yourself what you should look for as you walk around a store or mall. I have found some great items in some of the most unlikely places like kitchen equipment in a store that doesn't usually sell it or marked down party supplies at an upscale boutique who found they didn't have an audience for that product. In some ways, this style of "shopping" is really more like a scavenger hunt.  You can feel quite decadent when you are done with a particularly lucky one of these excursions, too. We walked out today having spent about $15 total, but probably felt even better than someone who spent $200 plus on that fancy waffle iron. (LAUGH)
Of course, the usual strictures about shopping apply. Don't by things you don't need. Don't buy expensive items that aren't of deep value to you and built to last for a long time. Don't shop to shop, but rather shop to find those things your NEED and find those things you WANT at the lowest possible price. Make it a game. Make it an adventure. Have a little fun without breaking the bank.
** I keep waiting for that wonderful shaving soup at L'Occitane to go on sale, but so far, no such luck. (SMILE) I'll keep looking though.
 Previously on End of the Day: