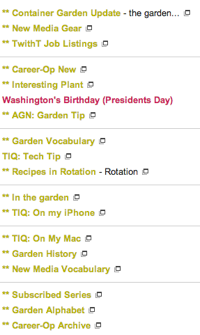 As mentioned in my update video of 2 days ago, I have established a schedule for my blog, podcast and video series and I am trying to stick to it as closely as I can. I am still adding more series and ending others as I get a feel for what as the most value and interest to you. For now, here is how things are working at the moment.
Sunday

Container Garden Update – Video & Podcast
New Media Gear – Blog
Tuesdays with Transitioners Job Listings – Blog (when there are updates to report)

Monday

Career Opportunities – Blog & Podcast
Interesting Plant Series – Blog

Tuesday

Garden Vocabulary – Blog
Recipes in Rotation – Blog

Wednesday

In the garden… – Video & Podcast
On my iPhone/Android Series – Blog

Thursday

Garden History – Blog
New Media Vocabulary – Blog
On my Mac/Windows PC – Blog

Friday

Career Opportunities – From the archives – Blog & Podcast
Garden Alphabet – Blog and Photos
Subscribed – Blog

Saturday

Garden Inventory – Blog
New Food – Blog
Please let me know through the comments which series you find most interesting or useful. I'd love to hear your thoughts!