Historical Garden Books – 146 in a series – The principles of vegetable-gardening (1901) by L. H. (Liberty Hyde) Bailey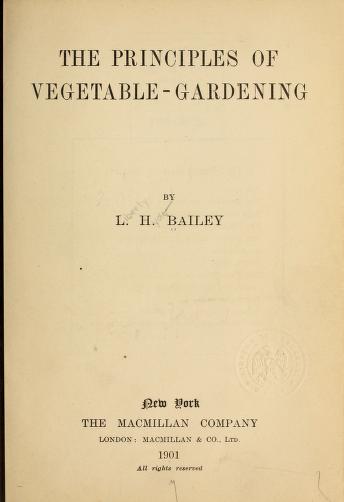 Available in PDF, Text, JPG formats, and more
PART I — GENERAL VIEW CHAPTER I THE LAY-OUT OF THE PLANTATION

Vegetable-GARDENING, or olericulture, is the art and business of raising kitchen-garden vegetables, and the applications of the various sciences thereto. The term kitchen-garden vegetable, or "Vegetable" in the gardener's sense, is impossible of definition. It is approximately true to say that the term applies to the edible part of an annual or at least an herbaceous plant. Vegetables-are not often used in the dessert, and therefore belong more properly to the kitchen than do the fruits. There is exception to this in the melon; and it is significant that this is often included with the fruits by European writers. The only complete idea of the use of the term is to be obtained from a detailed catalogue of the products which are called vegetables, and this inventory will be found on a later page ; in the meantime, it may be well to say that leading vegetables are potatoes, cabbages, onions, tomatoes, asparagus, peas, beans, cucumbers, squashes, celery, lettuce.
Publication date 1901

Topics Vegetable gardening

Publisher New York, The Macmillan company; [etc., etc.]

Collection library_of_congress; biodiversity; americana

Digitizing sponsor The Library of Congress

Contributor The Library of Congress

Language English
---
Find more books on Bookshop and Help Indie Book Stores!
---
* A portion of each sale from Amazon.com directly supports our blogs
** Many of these books may be available from your local library. Check it out!