Starting a series within a series, I will be highlighting shade plants that grow well underneath trees, especially California Live Oak. I have a deep shade area beneath many trees here in my own garden and i am constantly looking for plants that can help green this area. — Douglas
---
The sticky monkey flower is one my favorite plants when I am walking in our local hillsides. It is a great splash of color against, what can often bee, a dry and somewhat barren landscape. Both green and yellow make it stand out among the golds and browns of our other dormant Mediterranean climate plants.
Sticky Monkey Flower (Mimulus aurantiacus/Diplacus aurantiacus)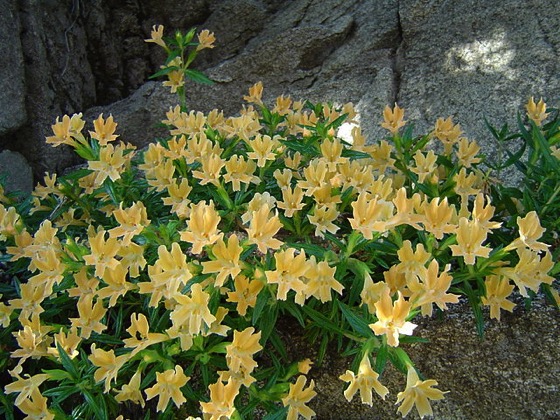 By  Geographer at English Wikipedia – Transferred from en.wikipedia to Commons by IngerAlHaosului using CommonsHelper., CC BY 1.0, Link
What are your thoughts on this Interesting Plant? Drop a note in the comments!
 Mimulus aurantiacus, the sticky monkey-flower or orange bush monkey-flower, is a flowering plant that grows in a subshrub form, native to southwestern North America from southwestern Oregon south through most of California. It is a member of the lopseed family, Phrymaceae, or, alternately, the Scrophulariaceae. It is treated by some botanists in a separate genus from other Mimulus as Diplacus aurantiacus.[1]

Mimulus aurantiacus grows up to 1.2 meters (4 feet) tall, has deep green, sticky leaves 3 to 7 centimeters long and up to a centimeter broad and flowering stems that grow vertically.[1]The flowers are tubular at the base and about 2 centimeters long with five broad lobes; they occur in a variety of shades from white to red, the most common color being a light orange. They are honey plants pollinated by bees and hummingbirds.

It grows in many climates and will thrive in many types of soil, wet, dry, sandy, or rocky. It even grows in serpentine, a soil that most plants have difficulty thriving in because of its unique mineral composition.

Mimulus aurantiacus is an important host plant for the larvae of the common buckeye butterfly (Junonia coenia) and the variable checkerspot (Euphydryas chalcedona),[2] despite a phenolic resin in the leaves which deter its feeding.[3] This resin also helps the plant retain water in dry environments.[3] — Wikipedia
More information on Sticky Monkey Flower (Mimulus aurantiacus/Diplacus aurantiacus):
Try Amazon Prime 30-Day Free Trial
 * A portion of each sale from Amazon.com directly supports our blogs
** Many of these books may be available from your local library. Check it out! 
Previously in the Interesting Plant series: 
Interesting Plant is a series from A Gardener's Notebook blog and podcast that highlights the most interesting plants I find in my Internet and real-world travels — Douglas