A clip from this longer presentation — New Media Q&A 2015 for UCLA Extension Voiceover Class. Watch the entire presentation here!
Douglas answers questions from students in Janet Wilcox's online Voiceover class at UCLA Extension.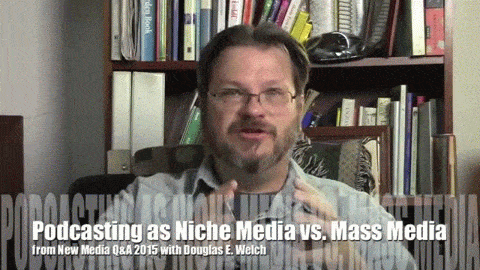 Podcast: Play in new window | Download (2.2MB) | Embed
Subscribe: Apple Podcasts | RSS
Transcript:
I want to caution you, though. Podcasting is not what we might consider a mass media. It's a niche media. Your audience is not going to be 8 million people like it would be for NCIS on CSBS on Tuesday night, but it could be 1, 2, 4, 10,000 rabid, raving fans of your work who will support you and assist you and basically give you some great feedback about the work you're doing as well as, perhaps, supporting you financially, through a Patreon fundraiser or through affiliate income — and we'll talk about that a little but later. So, get the word out in any way you can.
Links mentioned in this video:
Voiceover: Techniques and Tactics for Success by Janet Wilcox
Free Blogging Sites
http://Wordpress.com
http://Blogger.com
Royalty Free Music
Kevin MacLeod – http://incompetech.com
More information on Douglas E. Welch and Careers in New Media: