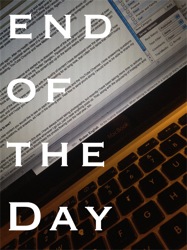 This post originally appeared in My Word with Douglas E. Welch
As you can tell by this blog (and my others) I have been putting a lot more time into writing new content and sharing content from others over the last several months. Partially, this is because I now have more time to create content since I am no longer doing day-to-day computer support, but also because I have a great need and desire to share my interests with others. It is so fun when someone comments on a recipe or gardening post, finds a TechnologyIQ post that solves their computer problem or enjoys one of my photographs. There is certainly a lot of reward in that, but I also blog for another reason — to share what I do and how well I do it with others.
The writing and sharing that I do is directly designed to provide what, I hope, is a good real world example of how blogging, podcasting and social media (in fact, all the New Media tools available) can be used to improve your life and the lives of those around you. This improvement then leads to money-making projects and consulting contracts where I can go even deeper in helping others share their (and their company's) story with the world. This is exactly how I came to work as a blogger and representative for Troy-Bilt back in 2011 and 2012. They discovered my work on the web and when they had an opportunity to hire people to represent them, my name was already in their mind. This is a great example of "attracting opportunity" instead of spending your days looking for work.
These "End of the Day" blog posts are a bit of departure for me. They are much more personal and reflect not only on my work but also my life in general. This demonstrates another idea I cultivate, too, though. A blog is really just a reflection of your life and work, not matter what the topic. The best blogs use real life as an opportunity to illustrate important concepts and teach important lessons. On several of my blogs I even have series entitled "Real World Examples" where I highlight just this idea. When anyone comes to me asking how they can get start blogging I always say "start with your life." What interests you most? What are your biggest questions? What questions do you get asked most? There is much knowledge (and blog content) to be found there. Even more, their is an audience out there waiting for your to share your ideas, your thoughts, your questions with them. All you need to do is speak to them.
In an effort to attract more opportunity to me in the coming months, one of the best ways you can help is by sharing my blog posts, my podcasts, my shared items, everything I do with those people you think might be interested. Share a link via Google+, Facebook or Twitter. "Like" on Facebook or YouTube. Email a blog post to someone you think needs to see it. Opportunity is a numbers game. The more people who "stumble upon" my work, the more opportunities that will appear. If I help you in any way with my work here, please help me, yourself and your friends and family by sharing it further. This allows me to continue creating more useful material for all of you!
Check out the share buttons at the bottom of every post on every blog here at DouglasEWelch.com. This makes it easy and convenient.
Previously on End of the Day: