My friend, Liam Johnson (@editorliam) just told me about this free New Media event happening in early June in Orange County, California. It sounds like a great day and — based on Liam's recommendation — something worth attending. I have already registered to attend. Hope to see you there. — Douglas
MCAI LA/OC MediaProCamp 2012!
Saturday, June 9, 2012 8:15 AM
The Digital Media Center 1300 S. Bristol Street, Santa Ana, CA (map)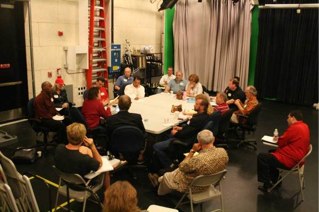 MCA-i's signature event, MediaProCamp, sponsored by Panasonic for the second consecutive year is again FREE to media pros who pre-register on line!
MediaProCamp is really an all-day (9:00 to 3:00 pm) series of roundtable discussions among working media professionals.
The idea is that no one is an expert on everything and yet we all have valuable expertise and experience to share.
The result is a dynamic, unpredictable fun experience of problem-solving, sharing and networking among expert professionals!
As you will see by our video it is a very special day that literally every working pro gets value from! http://www.mcai-oc.org/
Here are some of the Special Features you can expect at our 2012 MediaProCamp on June 9th:
________________________________________
Doorprizes: We're gathering number of professional services and products to raffle off. Again this year Adobe has offered us their new CS6 post production software package to give away to one lucky attendee!
And Colin Smith Smith, a noted Adobe trainer, best-selling author and award-winning new-media designer, will be holding a training session on CS6. Colin is also founder of the world's most popular Photoshop resource site, www.PhotoshopCAFE.com which boasts over three million visitors.
Panasonic is in the process of arranging for a filmmaker-cinematographer to speak to us about what we can expect from the many changes in digital videography that have recently affected movie making and other media.
MCA-i's Walter Davis, a producer-director-writer, and generous mentor will be giving a presentation as well. He is also an internet media entrepreneur with several Internet TV and Radio channels currently running. At past MediaProCamps, Mr. Davis enthralled attendees with valuable tips on Utilizing Internet TV for Profit; Mobile Apps; and Making Money On The Web. So you can be sure that his offering at the 2012 MediaProCamp will be interesting and valuable to your media business.
You can expect to meet any number of well-known media pros at the event but it's not about lectures it's about collaborating! Bring YOUR ideas. You may be voted on to make a presentation!
EVENT: MCA-I's MediaProCamp presented by the LA/OC Chapter, sponsored nationally by Panasonic
Monthly meeting of the LA/OC Chapter of MCA-I. Pre-register HERE
DATE: Saturday June 9, 2012
TIME: Doors open at 8:15 AM for Registration and networking over free coffee etc.. Roundtable Seminars begin at 9:00 AM FREE LUNCH included thanks to Panasonic!
Event Ends no later than 3:00 PM
As always, bring a friend and plenty of business cards. Come early and network with other media professionals over light food.
EVEN THOUGH THIS EVENT IS FREE, SPACE IS LIMITED
YOU MUST REGISTER ONLINE SO WE CAN GET AN ACCURATE COUNT FOR FOOD!
COST: FREE–only if you pre-register online at OC New Media Meetup Group http://www.newmedia.meetup.com/82/