Combine Your Interests for A Great Career from Transition is the New Normal [Video] (1:13)
Podcast: Play in new window | Download
Subscribe: Apple Podcasts | RSS
A clip from the presentation, "Transition is the New Normal" to OPEN (Outstanding Professionals Employment Network) Ventura County in Simi Valley, CA on March 4, 2016
Watch this entire presentation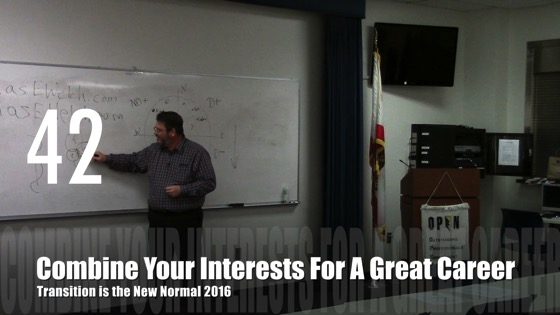 Transcript:
If you can find a way of combining interests like this — where they come together — that's the energy in your life, because having a job that expresses one interest of you life is great. Having a job that expresses 3, 4, 5 interests in your life, that is amazing. That's amazing — totally the best type of life that you are looking for is where you can engage as many of your interests as possible and that allows you to seek out your wants, needs and desires.

I want to thank you so much for having me out today. If you have any questions feel free — please feel free to visit the web site. You can also email me and I have a card I can give you with an email address on it. You can find tons of talks on my web site or in my YouTube channel. YouTube channel is directly YouTube.com/dewelch. Iknow that is kind of cluttered there but basically my first initial, my middle initial and my last name. There you'll find talks on transition as well as a bunch of other career topics and even if you are into gardening you can see me puttering around in my garden as well. Thank you again.
Links for items mentioned in this talk:
Help Support Career Opportunities!
---
Learn more about your career with these books from Amazon.com
* A portion of each sale from Amazon.com directly supports our blogs
** Many of these books may be available from your local library. Check it out!