Transition as an Opportunity to Change from Transition is the New Normal 2016 [Video] (0:48)
Podcast: Play in new window | Download
Subscribe: Apple Podcasts | RSS
A clip from the presentation, "Transition is the New Normal" to OPEN (Outstanding Professionals Employment Network) Ventura County in Simi Valley, CA on March 4, 2016
Watch this entire presentation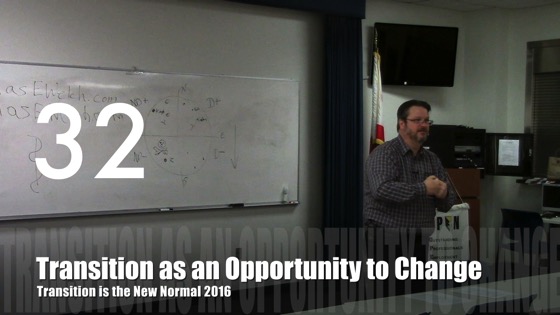 Transcript:
For most of us in this room, we are lucky. Even in our situations as they currently stand most of our life needs are being met. we can feed ourselves. We have a roof over our head. It may be a struggle. It may be troublesome right now, but we at least have those basic needs met and it's that stability that allows us to think about these other-other ways and other wants, needs, and desires in our lives. It also allows you to look out there and see transition not as a threat but as an opportunity. This is an opportunity — and it sounds like a cliche, I know — "This layoff is an opportunity for you!" Right? It doesn't feel like it at the time. It feels so bad and so scary and so frightening. It is an opportunity.
Links for items mentioned in this talk:
Help Support Career Opportunities!
---
Learn more about your career with these books from Amazon.com
* A portion of each sale from Amazon.com directly supports our blogs
** Many of these books may be available from your local library. Check it out!