Finding the Spark of Your Career from Transition is the New Normal 2016 [Audio] (1:01)
A clip from the presentation, "Transition is the New Normal" to OPEN (Outstanding Professionals Employment Network) Ventura County in Simi Valley, CA on March 4, 2016
Watch this entire presentation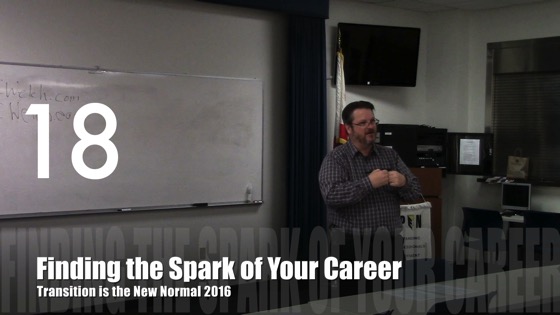 Podcast: Play in new window | Download
Subscribe: Apple Podcasts | Android | RSS
Transcript:
When you have that type of love for your work — and I'll point to typical places where this arises, like teaching and other areas like that where you are dealing with children especially — if you develop that love, you will work harder. You will produce better. You will do great, great work because you have that little spark — that little extra spark. So one of the things that I have tried to do over the years is help people find that spark. And it started with me — me sitting down after a layoff particularly, going "What the heck do I really like to do and not do and all this stuff?" And then I had a friend some to me and he was in the midst of a transition and he was struggling it just struck me and I said, 'Here's what you want to do. Write down everything you do right now. Then write down everything you would want to do — that you enjoy doing and let's work our way through it." 
Links for items mentioned in this talk:
Help Support Career Opportunities!
Learn more about your career with these books from Amazon.com