Video: Take Control of Transition from "Transition as the New Normal" with Douglas E. Welch
Podcast: Play in new window | Download
Subscribe: Apple Podcasts | RSS
A short clip from this longer presentation
Watch this entire presentation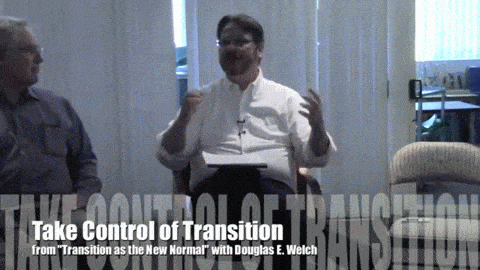 ---
Enjoy this clip and presentation? Consider a donation via PayPal to support further career talks, videos, podcasts and clips. 
---
Transcript:
What transition doesn't mean is, it doesn't mean you don't have control over your life. I think, sometimes, when we're forced into transition, we start to think, "Oh my god, I've no control. Life is just in someone else's hands. I'm totally out of control" and, of course, what's that going to cause? More fear. Nobody likes to be out of control. No one likes to feel that they don't have their destiny in their own hands. And again, that ebbs and flows are times when you have a health crisis and, yeah, things are taken out of your control for a short period of time. That's not the new normal. That's not going to last forever. It may make your life change forever, but it will find a balance there in that life that you are now living.

The most important part is, the way you regain control, the way you feel control, is that you take action for yourself. There are actions you can take in any situation that help to bring control back to you. I drove my nurses and my doctors crazy in the hospital because I'm the type of person that asks about everything. "Ah, what's in that IV? Oh, what's in that drug? What are you giving me for the pain? What is this…?" Every time they were going to do something. "What are these pills for? Should I be taking my normal pills that I usually take? No, you can't take those pills because you are doing this." I would drive them mad. Now, I really didn't drive them mad. There were some people who actually appreciated that I was asking these questions because I cared about the work they were doing. That's something you can do, too. If you care about someone else's work, they're going to care more about it. So, why not? right? Especially in a situation where someone is taking care of you, you probably want to establish some rapport with them. That's how I took control in the hospital and that's how I take control everywhere. I start to ask questions.