Education: Writing creatively: plays
Here is another educational opportunity that has nothing do with computer science at all. (LAUGH) This show some of the depth of the curriculum available on iTunes U.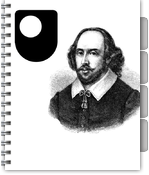 Writing creatively: plays
by The Open University

Course Description

For those interested in English language or literature, or with ambitions to write plays, the creative activities throughout this learning pathway provide an overview of the process of playwriting – from capturing ideas through to character, structure, dialogue, stage directions and editing.

Leading contemporary British playwrights, including Alan Ayckbourn (the most performed living English language playwright), Bryony Lavery (also author of 'The Woman Writer's Handbook'), and Willy Russell ('Educating Rita') give tips and practical advice on how to write plays. Their tips include how to read, watch and understand plays – using examples from Shakespeare, Ibsen's 'A Doll's House' and Caryl Churchill's 'Top Girls'.

This pathway encourages experimentation as well as learning by reading and questioning. You will also be able to listen to linguistics professor David Crystal at the London Globe Theatre re-evaluating Shakespeare by exploring the original pronunciation.