Subscribe and Forward This To A Friend Today!
Contents: 
Essay: Everything old is new again
Video: How To Draw Mountains via HarrisonHow on TikTok
The Art of Luca Available Online for Free
The Hidden Engineering Protecting Getty Art from Earthquakes
12 Low-Maintenance Flowering Succulents
Book: The Forgotten Founding Father: Noah Webster's Obsession and the Creation of an American Culture
Read the entire newsletter in your browser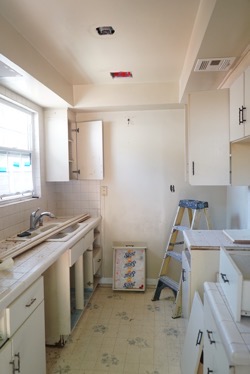 ---
Everything old is new again
We have lived in this house for 25 years and while we have done a small amount of remodeling and repair, we have never made any substantial changes to the kitchen we inherited. It was "good enough" and we made do. Kitchens can be one of the most expensive rooms to remodel due to all the appliances, cabinets, electrical, plumbing, and flooring involved, so we just continued to get by with what we had.
A new kitchen
That changed this week when we launched into a complete remodel of the kitchen down to the subfloor and studs. Oh boy, this is going to be a crazy few weeks. Being without a kitchen is one thing,l but having an endless procession of people in your house is what always gives me the willies. All that, along with the day-to-day management with our general contractor (who you should hire if you need any remodeling done) has me feeling a bit fuzzy and worn out. I am sure I will settle in eventually, but for now, my butt is dragging.
Never a good time, but always a necessary one
While it can be a bit crazy it is good to remember that there is often a time to do something even if you aren't the most prepared for it. For us, we have been doing what I call "retirement planning." While we have been saving for your retirement in terms of stock investments and such, we have also included investments in our house as part of that. It seems best to do that now, while we are still earning than trying to do it on a fixed income later. So, this year has included a completely new, modern, HVAC system, a new roof on the entire house, rafter repair, gutters (which we have never had), and now, the kitchen. Whew! It is a lot, but I am always reminding myself that these should be the last ones I should ever worry about installing. Everything after this is on Joe to take care of.
We were lucky with this house. Many friends upgraded to larger homes for larger families, but this house has suited us well. Three people easily fit here and two will fit even better once Joe moves out. He has been lucky to use this time to save and invest his salary for the future at an age much earlier than we ever did. He'll eventually find his own place, as most children do, but it has never been an issue with him hanging out here.
The Future Is Now
Planning for your future can always seem a bit scary, but it is one of the best tasks you can ever undertake. We expect to spend many more years here and we cook at home far more than we order out. COVID changed that a bit, but we are transitioning back to our home cooking more and more as the weeks pass. I look forward to cooking in my new kitchen where outlets are plentiful, counter space is expanded, and cabinet space is adequate. This vision is what helps me get through each chaotic day. There is an end to the project and we just need to get there.
What will you do?
What planning could or should you be doing today? Is it time to get your life in a little more order? Is it time to do a little more "adulting?" I think the answer is always YES! Every step you take today for your future will pay off a hundredfold.
Also, don't delay your happiness – even if it is just having a new oven or cooktop. Do it now while you are able to enjoy it for a good long time.
This goes for more than just kitchens, too.
***