What might you find in these old cookbooks? What special recipes have been handed down to you? Share in the Comments!
Historical Cooking Books – 81 in a series – Dr. Price's Delicious Desserts : Containing Practical Recipes Carefully Selected And Tested : Excellent, Simple, Delicate (1904)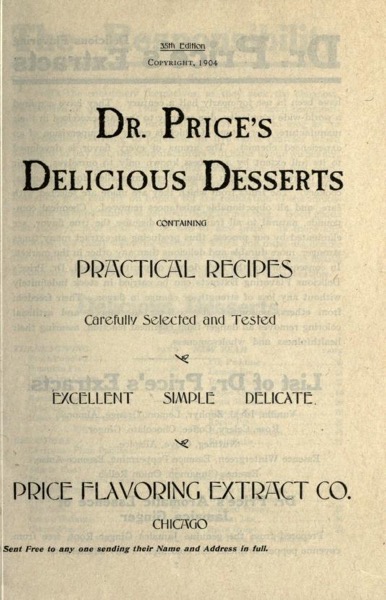 Available in PDF, Text, JPG formats, and more
Dr. Price's Extracts have been in use for nearly half a century. They have acquired a world-wide popularity, due entirely to the care exercised in their manufacture, every stage of which is under the supervision of an experienced chemist. The aroma of every flavor is developed to its full extent by a process known only to ourselves. Their high degree of strength makes them unexcelled for economical cookery. The fruits from which they are made are selected with care, and all objectionable substances removed. Chemical com- pounds, natural to all fruits, which disguise the true flavor, are eliminated by our process, thus producing an extract many times stronger, more durable and delicious than any other in the market. In consequence of the high degree of purity attained, Dr. Price's Delicious Flavoring Extracts can be carried in stock indefinitely without any loss of strength or change in flavor. Their freedom from ethers, poisonous oils, coal-tar substances, and artificial coloring removes all danger from chemical reaction, assuring their healthfulness and wholesomeness
See More:
Publication date c1904

Topics Cookery, Baking, Flavoring essences, Desserts

Publisher Chicago : Price Flavoring Extract Co.

Digitizing sponsor msn

Contributor University of California Libraries

Language English
---
Get these aprons for your cooking adventures.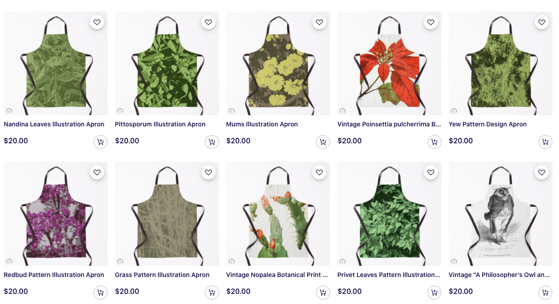 ---
* A portion of each sale from Amazon.com directly supports our blogs
** Many of these books may be available from your local library. Check it out!