What might you find in these old cookbooks? What special recipes have been handed down to you? Share in the Comments!
Historical Cooking Books – 74 in a series – Modern domestic cookery, and useful receipt book : containing approved directions for purchasing, preserving and cooking meat, fish, poultry, game, &c. The art of trussing and carving: preparing soups, gravies, sauces, and made dishes, potting, pickling, &c. The branches of pastry and confectionary; a complete family physician; instructions to servants for the best methods of performing their various duties. The art of making British wines, brewing, baking, &c.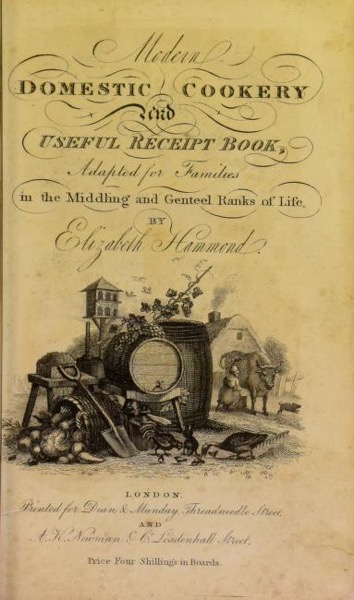 Available in PDF, Text, JPG formats, and more
PREFACE.

Exclusive of the necessity of such knowledge, it is surprising, how much such a woman, possessed of it, may save in the yearly expenditure of her family, which, in the present difficult times, is an object of material importance to all persons of moderate incomes, for whom this book is peculiarly adapted, combining economy and gentility in its receipts and directions.

That this volume may be answerable to the aim of the author, by removing many of the difficulties generally experienced, is her sincere wish.

E. H.
Publication date 1826

TopicsCooking, English

Publisher London : printed for Dean & Munday

Collection leedsuniversitylibrary; ukmhl; medicalheritagelibrary; europeanlibraries

Digitizing sponsor Jisc and Wellcome Library

Contributor University of Leeds Library

Language English
---
Get these designs, and many more, on unique aprons for your cooking adventures.
---
* A portion of each sale from Amazon.com directly supports our blogs
** Many of these books may be available from your local library. Check it out!