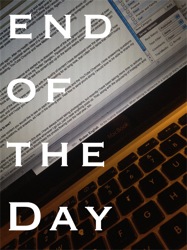 A long hot day turns to a long, not, sticky night and it seems certain that sleep will be hard to come by. The outdoor air feels too hot and neither one of us like to run the air conditioning at night so we are in a bit of a difficult position. I has been many years since I have had to face such issues, though. My childhood home in Ohio had only fans to move around the sticky air I once described as breathable cotton candy and it led to many a miserable night. Those memories make me dread even our relatively low humidity levels here in Los Angeles. If this is the biggest problemI have, I guess that means life is pretty good.
Today was filled with a bit of work and some good conversation. It always amazes me how a good talk can brighten my mood and elevate my day. I spend way too much time cloistered here in the home office. Sure, I talk with a lot of people online, but face-to-face communication carries a different weight, a different feeling.
After this, it was time to return home and make dinner. Tonight was our family red sauce, my own Italian-style concoction I have developed over the years. I make a large pot that we can store away in the freezer for those nights when we don't feel like cooking an entire meal. It comes together quickly with just a few ingredients, so it is a great staple to always keep on hand. We use it on pasta, with chicken and as a pizza sauce, too. Having it in huge freezer also means we can quickly heat it up on hot nights like this and save ourselves a small swelter just to make dinner.
Previously on End of the Day: