TV Worth Watching is a new series highlighting my favorite television viewing. I am a big fan of UK television, so you are sure to see many UK shows and movies featured here. — Douglas
---
Murdoch Mysteries (CBC Canada)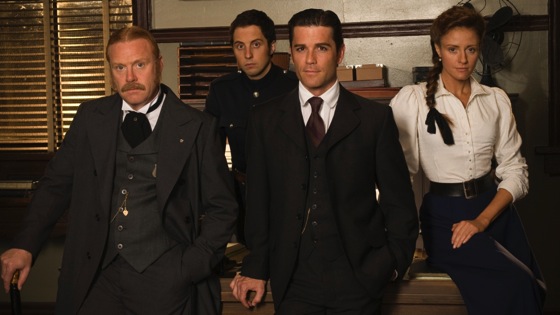 Watch Murdoch Mysteries on Netflix
Murdoch Mysteries books and DVDs from Amazon.com
Watch Murdoch on Amazon Instant Video (Free with Advertising)  | DVD
More Murdoch Mysteries Novels by Maureen Jennings
A fun romp through turn of the century Toronto, Canada, Murdoch Mysteries was a great find for Rosanne and myself. We love history, we love mysteries and the show is pretty darn good. I know some people will discount television from Canada (and any other country) but we are alway pleasantly surprised when we go looking for something new. I enjoy Murdoch Mysteries more than many American shows. The writing is good, the acting well done and it makes a great hour of entertainment each episode. We love the way they include historical figures and incidents in the story including people like Arthur Conan Doyle and Nicola tesla, technology of the time like Zepplins and the beginnings of forensic science and deal with modern issues in the context of their times like the rights of women and First Nations people. 
Be aware, Season 1, Episode 1 is a bit stiff, but the cast and crew soon hit their stride and the later episode and seasons improve with each episode.
We are working our way though the first three seasons, which we discovered via Netflix and Murdoch has become our standard dinnertime/evening viewing along with our other favorites like Miss Fisher's Mysteries from Australia and All Creatures Great and Small from the BBC. 
Set in Toronto at the dawn of the 20th century, Murdoch Mysteries is a one-hour drama series that explores the intriguing world of William Murdoch (Yannick Bisson), a methodical and dashing detective who pioneers innovative forensic techniques to solve some of the city's most gruesome murders.

Murdoch's circle of associates includes Constable George Crabtree (Jonny Harris, Hatching, Matching and Dispatching), Murdoch's eager and often naïve right-hand man; Inspector Brackenreid (Thomas Craig, Coronation Street), Murdoch's skeptical yet reluctantly supportive boss; feisty pathologist Dr. Emily Grace (Georgina Reilly, The L.A. Complex); and the love of his life, pathologist-turned-psychiatrist Dr. Julia Ogden (Hélène Joy, Durham County), a staunch ally who shares the detective's fascination with forensic science and innovative ideas. All are valuable allies who help Murdoch solve his varied cases and traverse the many stratums of Victorian-turned-Edwardian society.
More information on Murdoch Mysteries (Canada):
Previously on TV Worth Watching…