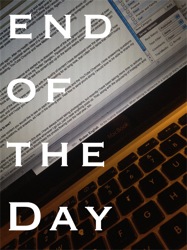 When you do what I do — writing, blogging, podcasting, training — you can often come to wonder if there is anyone out there listening to what you have to say? Sure, I have web stats and podcasting downloads and a host of other metrics, but there are times when you are wondering if anyone is reading what you write and if you are having any effect on the world at all If it all went away tomorrow, would anyone really notice.
I think that we all have regular bouts with these existential thoughts, but for me  (and I would assume others like me) it takes on the form a a cycle. We work and work and work and then we wonder. We work and work and work and then we hear nothing but crickets. The one thing that keeps me going is the infrequent notes and letters I get from people who have been effected by my work. These are typically amazing and very heartening, especially when I am at the bottom of one of my worth/worthless cycles. They are a like a bright candle in the night. Showing you that someone really is out there and paying attention.
Of course, go too long without one of these letters and the outlook can get pretty dark. I've been there and I think I know what it is like. You never think it is going to end — or more accurately, you begin to feel that this IS the end, with nothing more to come. For some like myself, you can tend to depression, this can be a very difficult place to find yourself. You are already in a deep, deep, hole and then feel as if the ladder is being pulled up from above. Yikes!
Still, I — and others like me — still keep working, keep writing, keep recording. Deep inside I know that I am having some effect, even if it might be less than I want and earning less than I would like. I don't really want to imagine what might happen if I lose this feeling completely, but it would certainly require a dramatic change in my life and work. Unitl then, though, I keep plugging away at those things I think are important and looking for ways to turn that effect into success — both professionally and economically.
Previously on End of the Day: