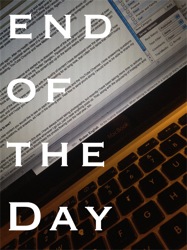 I am normally the night owl in the family, but tonight I am feeling so tired I can barely keep my eyes open. Just a few minutes ago, I was ready to fall asleep in my chair. Instead, though, my computer decided to have some issues as I was setting up something to run overnight and the act of troubleshooting that work me up again, at least for a little while. It is rare I would ever consider going to bed so early, so I took it as a sign from my body that perhaps it might be a good idea. I still might head off to dreamland as soon as I finish this and start my upload again. One should never ignore signs of an impending crash both with your computer and with your own body.
I think a lot of my fatigue comes from the last 4 days without family. I have been working pretty hard, as the distractions have been few, but maybe I overdid it a bit. That, combined with working the event on Saturday and a late pickup of the family from the Flyaway was a bit too much. It seems to have caught up with me tonight.
It is a bit frustrating, as I have several "daily" items that I haven't been able to complete. When I was falling asleep earlier, I was simply going to abandon them and approach it fresh tomorrow. Now, with just a little wakefulness, I feel like I want to push through and do them anyway. What to do? What to do? My best advice seems to come from Scarlett O'Hara in Gone with the Wind. "I'll think about tomorrow, at Tara…after all, tomorrow is another day!" Nothing like a little procrastination to complete your night. (LAUGH)
With that, I bid you adieu on this short End of the Day. I am sure with a little extra sleep tonight I will be ready to face whatever the world has to offer tomorrow!
Previously on End of the Day: