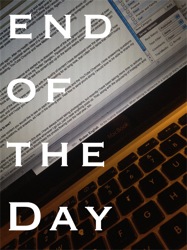 With Rosanne and Joe off the robotics competition in Cleveland, I find myself along for nearly 4 days. If this were a television show, I would quickly descend into squalor and depravity without the controlling influence of my wife. (Insert laugh track here) Sadly, for you, I won't be blogging about anything so funny or dramatic. Life proceeds apace much as it always does, but with perhaps a few more naps and a bit less housework. (LAUGH)
That isn't to say I won't be working, though. I need some time to help out an old friend with some computers issues, meet with some clients and do my daily new media routine. Working for yourself can be a bit of a treadmill sometimes. You can't easily get off the treadmill, but you can slow it down when needed. That is probably my modus operand over the next 4 days.
The heat might make it difficult to do too much work outside, but there are a few small tasks that need doing urgently, so I will probably work them off in the cooler hours just after sunset. I also need some sustained quiet time to do some writing. There are several projects I need to push forward and this trip should help me do that. The quiet can also help me get some videos produced. It is so much easier when you don't have to try and shush your roommates as you work. So everything seems to reset of making the best use of this alone time as I can.
I am glad I decided not to make the trip back to Ohio at this point. There wasn't enough time and too many commitments to fulfill with family and friends to make it enjoyable for me. I hate not being able to settle in with family for lunch or dinner when I visit. Rushing from one event to the next stresses me out dramatically and makes the entire trip unenjoyable. Rosanne is also using the trip to catch up with her family in Cleveland, so I think it is best to let her have her "girl talk" time without worrying about entertaining — or including — me.
It looks like we have made the best choices possible for this trip. I will miss them, of course, but I already have more than enough actives to keep me busy and perhaps even entertained. There is a great difference between loneliness ad solitude, as I write a week or so ago. This I am definitely considering solitude. They'll be back before I know it and life will take on the crazy rush of Summer approaching.
Previously on End of the Day: