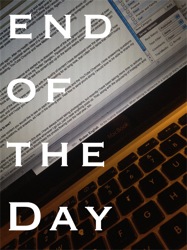 Sometimes, whether you like it or not, your body and mind will decide that it is time for a day off. This was one of those day. For the first time in a long time we were all home all day with nowhere we HAD to be. Forgive me for a minute while I say, "aaaaaaaaaaaaaaaa" and settle into my easy chair once more. The act of having a "pajama day" as we call them around here is so rewarding after such a busy time. Sure, I did a little work, but nothing like my usual days. Our hairdresser came to the house and cut all our hair so we look a but more presentable for the coming weeks. I fixed a couple of small things around the house, but overall we simply chilled for most of the day. For dinner, I made a big pot of jambalaya and we sat and watched "All Creatures Great and Small" reruns as we ate. Finally, we ended our day singing along to songs from Frozen and my son's latest musical addiction, the Mowglis. He asked to me to try and work up a few of their songs on guitar so he could learn them.
Now here we are at the end of the evening, Rosanne is asleep, Joseph is playing video games online with his friends and I am watching YouTube videos while I write. Tomorrow, though, we will all be back at it again. They are off to Mother's Day lunches while I have to visit a client quickly to handle some small issues and then return home to clean up a few things in the garden. We are already prepping for Rosanne and Joe's trip to Cleveland at the end of the week, for the National Robotics League tourney with his school team. While they are gone I will be trying to finish up a bunch of projects I have needed to work on for months.
So, even though we might take a day off every so often, like today, the rest of our days are well filled with all sorts of activities for the foreseeable future. Before long Rosanne will be teaching summer school, Joseph might have his first summer job and I will finally get a little less "alone time" as we all spend a few more hours at home each day.
When did you last take a day off? Was it forced on you or did you choose to take it? Why? Share your thoughts below!
Previously on End of the Day: