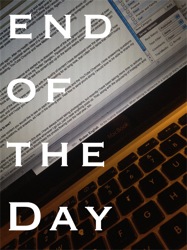 It has been a hot and windy day here in Van Nuys. Not quite a full-on Santa Ana condition, but similar. The temperature rose into the 90's and the trees swayed wildly, bumping to the house on occasion. I took it as an opportunity, as I often do, to air out the house. Windows were opened throughout and let the wind bluster about inside. It was only around 9pm that it started to get cool enough that I decided to close them. It probably won't get that cold tonight, but probably cooler than I would want it for sleeping.
I don't quite know why, but I have always love windy days. Sure, in the Winter it can get too cold to be enjoyable, but the buffeting of the wind on warmer days is always a treat. Maybe it is the wild chaotic movement of the trees and plants. I think it is similar to waterfalls, rivers and ocean waves in that regard. There is something about the unpredictable nature of it all that intrigues and captivates the human mind. I would watch the trees sway for hours and listen to the rush of the wind through the leaves.
Of course, warm winds here in Southern California can bring the scourge of wildfire, too, so my nose is constantly tuned to the acrid, sour-smelling smell of burning chaparral. Living here in the middle of the San Fernando Valley I don't have much worry of actually facing a wildfire, but they have burned in the hills around us year after year. From here you can see and smell the smoke and sometimes even see the flames, especially at night. Fire has always been a part of this land since it was created, but human habitation provides more sources of ignition and also more damage to life and property when it does occur. I would love to live in the hills, but I know that I would have to be able to lose all the contents of my home to wildfire without much concern. That state of mind is difficult to find, though, so I remain here in the significantly less picturesque, but much safer from fire valley floor.
Wind bars on the Wundermap weather map
The wind is supposed to bang around most of tonight and tomorrow. It sometimes keeps us awake, but the windows in the older part of the house block most of the sound. We awake to the scattered and drifted leaves, small limbs dropped from the trees and the occasional piece of litter that has blown into the yard. The sky, though, is typically bright and clear and deep blue — most of the polluting haze blown away, at least for a short time.
For now, I sit and listen as the wind goes bump in the night and imagine what it might be carrying where on its travel.
Previously on End of the Day: