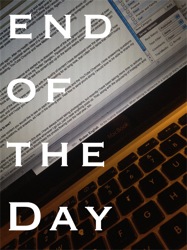 Even if you have known me for a while – either in person or online – there might still be a few things you don't know about me. While I have been in LA for 28 years, I had another 22 years back in New London, Ohio and. Bowling Green, Ohio. New London is a town of about 2000 people and most of my family still live in that area. It is a quintessential small town with struggling downtown, hard working folks and quiet back road — some that are still paved in gravel to this day. This might explain why I have a relative antipathy to the big city, even though I have lived here for many years.
While I lived in "town" and not on a farm, I spent many, many hours on the farms that surrounded the town. I drove tractors like this John Deere Model 60 or Allis Chalmers tractor and even large combines, the size of big rig trucks. I carted grain to the local elevator to sell, riding in the wagon of soybeans, corn or what for the fun of it. I baled hay and stuffed iit nto the hay lofts, choking on the dust and chaff on some of the hottest days of the year.
In school, I was a B student for the most part. I sang in the chorus, played trombone in the band and acted and sang in high school and community theater productions including Guys and Dolls, Oklahoma, South Pacific and more. This led to my continuing as a theater major in college and graduating with that degree.
It was at college, in. Bowling Green, where I had access to computers for the first time and discovered my aptitude for technology and helping others use it. I lived for 9 months in Cleveland prior to my wedding, doing a series of of jobs like working at a television and appliance store and working in the Box Office of the Playhouse Square Foundation. That led to years of technology work once I moved to LA in 1986, after my new wife and I left Ohio the day after our wedding. This June marks 28 years in Los Angeles, as well as 28 years of marriage. 
Is there anything here you didn't already know? Hopefully you now know me a little bit better.
We all have our unique stories and sometimes it is worth rereading these stories with older – and perhaps more wizened– eyes. You never know exactly what you might see there that you hadn't seen before.
Previously on End of the Day: