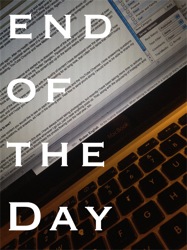 The long, 4-day weekend is over, but I won't say it seemed like it rushed past. We all took our time, had some great events and generally kicked back.
At times, the home office was a bit like that of a small startup company. All three of would be engaged in our own work or play and then suddenly come together for a meal, a little YouTube watching or taking care of a bit of outside business. Sometimes Joe would be the annoying cubicle mate, screaming at his team mates in League of Legends and at other times quiet and engaged in an intense game of TitanFall, which released its beta late last night. Still later he would be curled on up on the couch highlighting the book he is reading for his English class, Life of Pi. 
Rosanne moved from writing to reading school work to editing the latest entries for her current encyclopedia projects and then would suddenly hit the couch for a short nap with one or more cats curled up against her. I am sure this a bit odd to those of you with more "normal" lives, but over the years we have become used to the odd arrangements of changeable schedules. We have our intense moments of work and our, just as intense, moments of play and relaxation. They don't always balance out, but we do our best. I know I can get a bit stressed during the intense work periods, but It is nice to know that I can quickly switch into "adventure" mode, as we have always called it. These are times when we have to look at each other and actively remind the other that this is a moment to just dive in and enjoy, rather than try to force things to happen.
Tomorrow we are back to normal — or at least what is normal this month, this semester, this week. Rosanne is back to teaching, Joe is off to school and further rehearsal for the musical and I am off to speak on "A Year of Opportunity" for Tuesdays in Transitioners in Northridge. My outline is written, my cameras are charged and I am looking forward to sharing my thoughts with the attendees in hopes of helping them "build the career they deserve!" I find that I enjoy speaking greatly. It always leaves me both energized and thoughtful. I often come back with more ideas than when I first arrived. Then it is back here to the office for my usual daily routine and more, hopefully useful, accomplishments. There are articles to be written, podcasts to be recorded and released and videos to be created and uploaded to YouTube. 
I hope your week is productive, exciting and, most of all, fun. I think we all need all 3 in our lives to be truly happy. 
Previously on End of the Day: