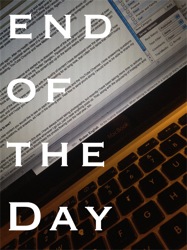 Don't it always seem to go
That you don't know what you've got
Till it's gone

     – Big Yellow Taxi, Joni Mitchell
We have known it for years, but we need to be reminded on a regular basis lest we forget. The city is a noisy place, even if your brain begins to block out the constant noise of traffic, helicopters and neighbors, the noise is still there. It is only when we get away from the noise that we notice it by its absence. We never realize just how quiet it can be until we get away, even for a short time.
Today, we needed to take Joe to an event in Palmdale, CA, far out into the Antelope Valley. While I sometimes can complain about the need to cart him everywhere, I was happy to oblige today. A trip to Palmdale would give me the opportunity to visit one of my favorite museums and also get away from the noise of the city for a few hours. We dropped him off at his event, did a quick meet and greet with the other parents involved and then headed off to the Antelope Valley Indian Museum about 15 miles further down the road.
The Antelope Valley Indian Museum is part of the California State Park system and has a long history. I won't try to recount its entire biography, but will point you to this information on the AVIM web site – About the Antelope Valley Indian Museum. I try to visit the museum every few years and also encourage as many other people as possible to check it out. It is a unique piece of California history in its own right, but also seeks to share a better understanding of the native people who once populated Caliornia, Arizona and Nevada.
We started our day on a short nature trail that surrounds the museum itself and I was immediately struck by the silence. I often describe it as almost painful after a long time in the city. Your ears keep opening up, straining for sounds and — finding little — open up even more. After only a few minutes the wind can seem loud and boisterous and you can hear the cackle of the ravens as it echoes off the surrounding rocks. You can even hear the bees and other insects humming and, in some cases, even the sound of the blowing shifting sand. I can feel my body relaxing and opening up, just like my hearing. My shoulders slump, my brow unfurls and my movements slow as I gather the sights with both eyes and camera.
Once I am in a quiet place like this, I always wonder why I have been away do long. There are many places within an easy 1 hour drive of Los Angeles, that can offer deep, deep silence if we only take the time to seek them out. Even here in the city itself, you can find respites among the deep canyon parks and rolling hills. Even within a mile of the 101 Freeway, once you drop below the ridge line the noise dies out, leaving you hearing only rustling leaves, calling birds and the occasional scurrying of a ground squirrel, rabbit or coyote.
While today's experience is still fresh in my mind, I want to encourage your all to seek out these places away from the noise of the city — even if you think you don't really notice it anymore. "You don't know what you've got till it's gone" and I can guarantee you that you will notice, clearly, when the noise drops away, your ears open up and you really start to hear again.
I'll post a complete collection of photos from today's trip to the Antelope Valley Indian Museum very soon. Until then, check out these posts about previous visits.
Previous posts on the Antelope Valley Indian Museum 
A Places LA video from our visit in 2010
Previously on End of the Day: