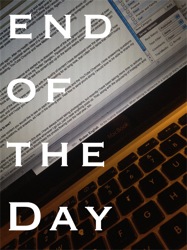 As if we didn't have enough reminders already, today was another object lesson in our parenthood. Early this morning we gathered ourselves up — along with lunch, books to read and strong, strong coffee and headed down the I-5 to the second of our robotic adventures, Robot Conflict 2014 in Norwalk, California. Joe is the co-captain of the battlebots team so it our duty to get the bot and all its associated accouterments to the tourney on-time and in good condition. This also means a long day (8-4pm or so) sitting around, waiting, reading, eating and intermittently cheering on the team.
Today's tourney started out ok, but the team continues to suffer equipment failures in the motors from the kit that all teams start with. They won their first 2 matches handily, but lost a motor after the second match and another after the third, leaving them with only one set of driveable wheels for their last match.  They'll get the equipment issues worked out, but it can be a bit frustrating when the driving and strategy is working pretty well. They need to get everything fine-tuned for their trip to the National Tournament in Cleveland, Ohio this May.
Of course, for parents, it is a long day. There isn't much for us to do between matches and during matches between other teams, so we sit and talk to the other parents and I brought several books and my iPhone to catch up on my reading. Unfortunately, the location doesn't have WiFi or I could be a bit more productive. Since we were eliminated a bit early this round, we were at least able to get home a little earlier and get some "real" work and make a family dinner before it got too late.
These days are quite different from my own childhood, of course. Whether we were headed off to Solo-Ensemble Contest, theater conferences and contests, sporting events or other school occasions, we were responsible for getting ourselves there — either on the provided school bus or by riding with friends. Our parents had more concerns than carting us around and then staying the entire day with us. I think that change will always amaze me a bit as we complete Joe's high school adventure.
Previously on End of the Day: