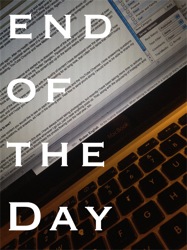 As someone who lost 60 lbs over the last year or so, it may sound odd to hear me say that I spend every day looking for food. The fact is, one great way of watching your weight is to make your own food at home — as often as you can. This means, of course, that you have to constantly be on the look out for great new recipes and ideas. I find a lot of my potential new food on the Internet, but just today I picked up 3 books from the library to see what gems they might hold. Cookbooks are easy to flip through and I can quickly discern if any of the recipes might fit my rather finicky tastes. the glossy pictures certain help a lot, too.
I recently posted the recipe and photos for some Soft & Chewy Ginger Cookies that I adored and you can find all my past "New Food" posts using this link to the New Food Category here on the blog. I am trying to gear up to make New Food a weekly series again, but I have to charge up with a collection of recipes that make me WANT to make them. Watch the blog for more information in the future. You can easily what new recipes I am finding on the Internet by following me on Twitter, Facebook, Google+ or Tumblr. This is always where I share recipes when they first catch my eye.
Today's 3 books include The Glorious Vegetables of Italy by Domenica Marchetti. I have always been a sucker for Italian food and now with our family connections there, it has become even deeper. This book starts out with a wonderfully comprehensive review of the different vegetables prominent in Italy and then takes off on a late collection of recipes that use them. Several recipes caught my eye immediately, including Garlicky Lentil Soup, Tuscan Kale Frittata and Braised Radicchio with Pancetta and Cream. I am really looking forward to getting into the kitchen and making these of the family.
From Amazon.com…
This book is a tribute to Italy's many glorious vegetables, from the bright, orange-fleshed pumpkins of autumn to the tender green fava beans of early spring. Organized by course, this lavishly photographed cookbook lauds the latest dining trend—the vegetable's starring role at the center of the plate. Cooks of all skill levels will enjoy more than 100 recipes mixing tradition and innovation, ranging from the basics (Fresh Spinach Pasta Dough and Fresh Tomato Sauce) to the seasonal (Spring Risotto with Green and White Asparagus) to savory (Grilled Lamb Spiedini on a Bed of Caponata) and sweet (Pumpkin Gelato). This indispensable recipe collection will appeal to Italian cuisine lovers looking to celebrate vegetables in any meal, every day.
Second, is Relish: My Life in the Kitchen by Lucy Knisley. This is a unique book as it is entirely down in comic form, meaning it is draw like a comic strip. It is really a memoir rather than a a straight cookbook, but these types of books often yield some of the best recipes as the recipes truly come from the heart of the writer and the family. The unique presentation of this book makes it an enjoyable change from most other books about cooking and food.
From Amazon.com…
Lucy Knisley loves food. The daughter of a chef and a gourmet, this talented young cartoonist comes by her obsession honestly. In her forthright, thoughtful, and funny memoir, Lucy traces key episodes in her life thus far, framed by what she was eating at the time and lessons learned about food, cooking, and life. Each chapter is bookended with an illustrated recipe—many of them treasured family dishes, and a few of them Lucy's original inventions.

A welcome read for anyone who ever felt more passion for a sandwich than is strictly speaking proper, Relish is a graphic novel for our time: it invites the reader to celebrate food as a connection to our bodies and a connection to the earth, rather than an enemy, a compulsion, or a consumer product.
Finally is Elizabeth David's Christmas, edit by Jill Norman. This is more a a history of David's food writing, but it also includes a horde of recipes all based around making Christmas special. I have only just started into the book, but look forward to what it has to offer.
From Amazon.com…
Throughout her distinguished career, Elizabeth David wrote and collected many articles about Christmas food. She put together a file of these articles, recipes, and notes, and even wrote an introduction, intending to publish them as a book. It never appeared, and after her death in 1992, her literary executor Jill Norman found a box with all this material. She put them together as Elizabeth intended, and Godine now has her "Christmas" edited for the American reader, handsomely illustrated and ready to guide us through the festive season with good food and high spirits. 
Previously on End of the Day: