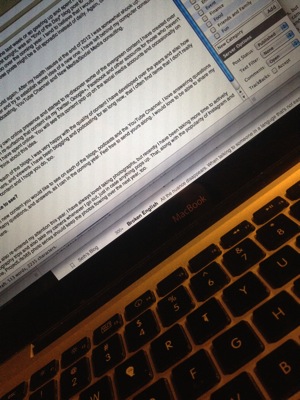 While traveling abroad certainly has its attraction, and I am ready to visit the UK or Sicily again whenever possible, there is a lot to be said for just spending some time in your neighborhood. That was exactly what we did today, in fact, we worked a bit at home, kicked back a bit and then went out into the neighborhood to run a few errands and, as it happens, pick up a new piece of furniture for the house.
After living here in the Van Nuys/Sherman Oaks area of Los Angeles for 27 years, we have our favorite places and our go-to places when we are looking for something specific for the house. The Barn, located on Sepulveda Blvd is one of those places. We own several pieces of furniture from there and today we returned to look for a small cabinet or credenza. Sure enough, after walking around for about 15 minutes we had 3 possible choices. After finding out what our "returning customer discount" would be, we picked up this Craftsman style unit that matches several other pieces of our furniture. It wasn't the cheapest of our 3 choices, but it a quality product and looks great in the dining room. This, the nearby location, the great customer service (and the friendly store cat) keep us going back whenever we need something new. We don't always end up buying from there — witness our recent purchase of 2 Ikea armchairs — but we definitely make the time to check it out before purchasing anything else.
Part of my afternoon was also spent helping out a next door neighbor with some computer issues and even purchasing and setting up a new webcam so she could Skype with distant friends and relatives. (Webcam also purchased at a local store, although it is a chain.) I love this neighbor because she always has the best chocolates and sweet treats to help me through my work. (LAUGH) Today was lovely Belgian Chocolates, Armenian cookies and cakes and a nice cup of tea. We should all be so lucky to have neighbors like this!
We often spend our days walking the neighborhood, too, sometimes for the exercise and, sometimes, just to get out off the house for a while. As someone who works from home, this can be critically important to maintaining a healthy attitude and high productivity. It also gives us a chance to see what is happening in our neighborhood — things that we might otherwise miss as we speed by in our car. We play "find the kitty cat" on our walks, which are many at particular times of the day. We see our neighbors out walking their dogs at other times. We get a chance to "see and be seen" which can be critically important when neighborhood issues or emergencies arise. No one wants to be a stranger when the next earthquake strikes, so getting out into your neighborhood can be critically important BEFORE it happens.
I have sat on the patio at our cousin's house in Mascalucia, Sicily and enjoyed it immensely, but I find I can the same solace and happiness in my own backyard and my own neighborhood, too. Yes, sometimes familiarity can breed contempt, but familiarity can also feel very much like home.
Previously on End of the Day: