Checking in with Douglas E. Welch – November 2013
DouglasEWelch.com
Hello everyone! It has been a while since I checked in with you all, so I am taking a few lines to fill you in on everything that has been happening with me over the last several months.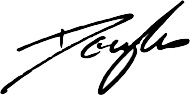 ---
Computer Consulting Transition
For the most part, I have completed my transition away from day-to-day computer consulting. I have made a few calls to finish up some projects or help out in a crisis, but I have referred this type of work to another consultant. If you need a referral for basic computer support, please drop me a line and I will send you that information.
Of course, I haven't retired from work entirely (I'm not THAT old! (LAUGH)) and as with everyone, I still need to make money in some way. For that, I have recently been involved in a variety of projects that are more in-line with my new work desires. If you, or someone you know, would like to develop similar projects, please let me know. Referrals are always appreciated!
---
UCLA Extension Writers' Program Interview Series
UCLA Extension Writers' Program recently published 2 books on writing for television and film, "Cut to the Chase" and "Inside the Room."
"Based on UCLA Extension Writers' Program's renowned workshops and written by its successful film and television writer-teachers, CUT TO THE CHASE and INSIDE THE ROOM give readers step-by-step instruction on creating their feature, one-hour drama, half-hour comedy, and TV pilot scripts; and offer practical advice on launching and sustaining a Hollywood career."
In order to promote these books, and their writer-teachers, the Writers' Program wanted a series of video interviews to be shared on YouTube, their web site and other social media sites. Both Rosanne and I have worked with the Writers' Program in the past as both instructors and media creators, so we were approached for this, much larger, project. What initially started out as a 5 interview series quickly expanded to 18 interviews conducted over 5 sessions and several months. I lit and recorded audio and video for the interviews, while Rosanne acted as our local Producer along with producers  from the Writers Program, who created the questions and conducted the interviews. Editing of the project was expertly handled by our good friend, Liam Johnson (@editorliam) who was instrumental in turning 30-40 minutes of raw footage into tight, informative and useful "episodes."
We are finishing up this project at the moment, but you can watch many of the videos in these 2 YouTube playlists.
Also, for the 3rd time, we have recorded and produced audio and video of the Writers' Program Annual Publication Party Reading. I recorded audio and video, edited and produced each writer's segment as individual videos to be shared via YouTube, the Writers Program web site and others social media sites.
You can watch these videos in this YouTube playlist.

---
"The Promise" print and ebook production
Over the last several months I have also been producing and publishing "The Promise",  a children's chapter book for my wife, Rosanne and her co-author Dawn Comer Jefferson.
"Based on a true story, The Promise follows Mary, the 9 year old daughter in a family of slaves in Louisiana in the 1850s. Because Mary and her father can read and write, Mary's family is promised freedom if they travel with their master on the treacherous Oregon Trail.

When they reach Oregon, the master frees the parents but keeps Mary and her brother as slaves. Mary's parents take the master to court to sue for custody of their children, and with Mary's brave testimony, they set in motion a law which helps determine if Oregon will come into the Union as a free state or a slave state.

The Promise is a historical chapter book for children ages 7-9."
The print edition of the book was developed and published using Amazon's Createspace.com service and the ebook is available from the Amazon Kindle store.
Along with producing the books themselves, I was also the photographer and designer for the book's cover.
If you need production assistance with your own publishing projects, please contact me at douglas@welchwrite.com or 818-804-5049.
I also have several Kindle books of my own work available including Cultivating Your Career Reputations, Career Compass: Finding Your Career North, Social Media Self Preservation and The High-Tech Career Handbook.
---
Career, New Media and Educational Consulting
While I have moved away from day-to-day computer consulting, I am focusing more on the other consulting which I have offered including One-To-One Career Consulting, New Media and Social Media Consulting and Educational Consulting with teachers and other educators who are learning how to best integrate iPads and other devices into the classroom.
My One-to-One Career Consulting grows out of my long-running Career Opportunities column and podcast, which is now in its 10th year as a podcast and 16th year as a column. I first offered this service up exclusively to my podcast listeners, but now I am expanding it to anyone who needs help in "Building the Career They Deserve." I offer consulting in person, but also via Skype and other online services. We live in a global society, so it only makes sense to use tools like podcasting, Skype and Google+ Hangouts to reach out to clients, wherever they may be in the world. My most recent client is based in Melbourne, Australia, but faces many of the same career challenges as anyone in the US.
You can schedule a One-to-One Career Consult with me via this page on the DouglasEWelch.com web site.
New Media Consulting
More and more people are coming to realize the importance of New Media and Social Media in supporting their work and I am increasingly receiving requests to help people use these tool more effectively. I have consulted with clients on how and why to set up their own website or blog, start and use a Facebook account or page, and productively promote their events. There is tremendous power in New Media and anyone can take advantage of it. I love helping people do just that.
Educational Consulting
My own wife is a college professor and we have many friends who are teachers and educators, so it only made sense that I would get requests to help them integrate new tools into their classrooms. Over the last several months, I have seen a great increase for the need for iPad training as schools began providing them to their teachers and students. This has involved not only teaching them how to use the devices themselves, but also developing — along with the teacher — ways of uses the tablets effectively and in ways that enhance the educational experience, not just replace traditional tools.
I used my video skills to produce this short video on how to use Penultimate for the iPad so that Rosanne could share it with her fellow professors and staff.
My own experience with using the online education tool, Blackboard, has led to questions on how to use it effectively and how to transition from it to the, very popular, Moodle, tool which is replacing it in many colleges and schools. Acting as an "in-house" advisor to my wife has allowed me to develop deep knowledge of these projects, how they can best be used and the challenges they can cause.
---
My own YouTube Productions
Along with everything else I do professionally, I also continue to write for my blogs and produce videos on gardening, technology, careers and more. You can find all of my videos on my YouTube Channel as well as in the associated blogs.
That sums up the current state of my professional life at the moment. If you have need for any of the skills I mention above, please drop me a line at douglas@welchwrite.com or call 818-804-5049.