If you subscribe to my Pinterest page, my @douglaswelch Twitter account or my Google+ feed, you know that I am always finding recipes I want to try. This series, New Food, will highlight some of those finds as we make them for the first time in our own kitchen. Then, I'll report back to you on the results — for better or worse! — Douglas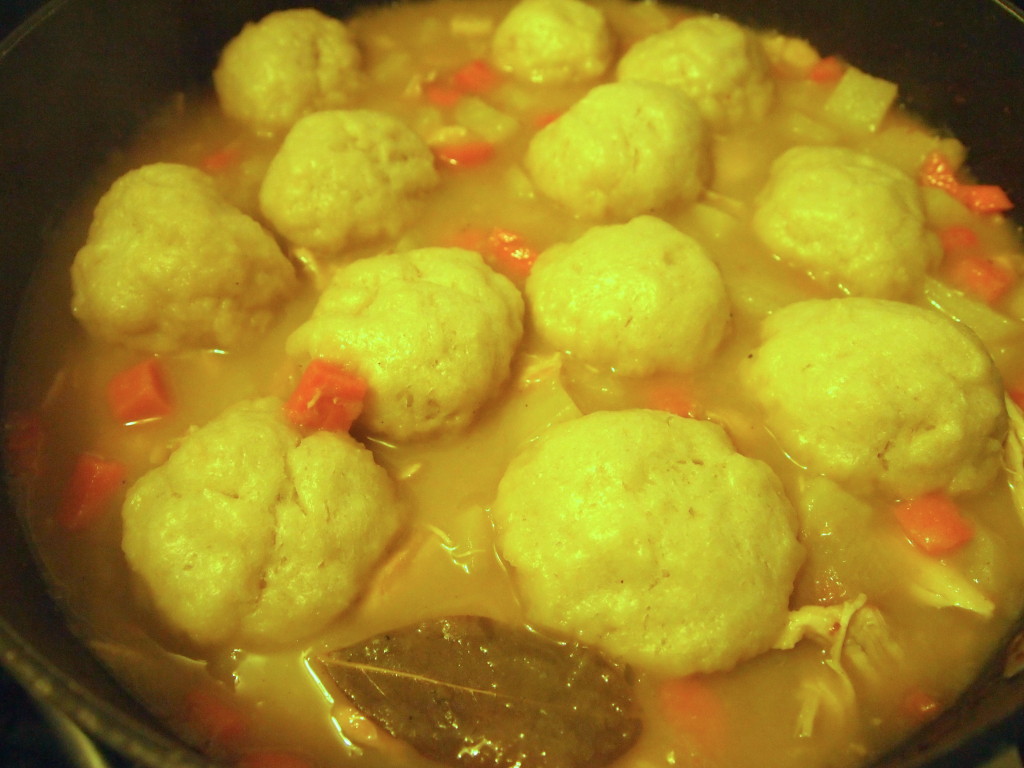 My version of Jamie Oliver's Humble Chicken Stew & Dumplings
I recently came across this recipes from Jamie Oliver's Save with Jamie, his most recent cookbook and it touched a chord with my wife and I.
She is a big lover of stews and soups, but I hadn't really found a stew recipe that I really liked. Her own family recipe didn't really work for me, so I thought this one was certainly worth a try. It ended up being quite tasty and provides a good jumping-off point for modifications and enhancements. I love this in a recipe, as one recipe gives me both interest and opportunity in exploring additional possibilities. I would say that this will probably make its way into our regular meal rotation. I am already thinking about addition additional veg, maybe some smoked sausage and other flavorful ingredients. It was easy to make and the majority of the time cooking is unattended in the over. I made this in a large, covered skillet in order to save on extra dishes and cleaning afterwards.
Humble chicken stew & dumplings by Oliver
Serves 4
Ingredients
1 leftover chicken carcass, plus up to 300g leftover cooked chicken
4 rashers of higher-welfare smoked streaky bacon
olive oil
2 onions
3 large carrots
2 potatoes, or 250g of celeriac
a few sprigs of fresh thyme
2 fresh bay leaves
200 g of button mushrooms
1 heaped tablespoon of plain flour
250 g self-raising flour
125 g cold unsalted butter
Method
Strip all the meat you can find off the chicken carcass, and put aside. Place the carcass and any bones in a large pan and use a rolling pin to smash them all up. Cover with 1 litre of water, bring to the boil, then simmer for at least 30 minutes, skimming away any scum from the surface.
Meanwhile, finely slice the bacon and place in a large casserole pan on a medium heat with a lug of oil, while you peel and chop the onions, carrots, and potatoes or celeriac into 2cm dice. Add to the pan along with the thyme sprigs and bay leaves. Cook for 10 minutes, stirring regularly. Halve and stir in the mushrooms, along with the leftover chicken and plain flour. Pour the stock through a sieve straight into the pan (topping up with a little water, if needed) and let it simmer for 20 minutes, or until thick and delicious, while you start your dumplings.
Place the self-raising flour and a pinch of salt in a mixing bowl. Coarsely grate in the butter and rub together until it resembles breadcrumbs. Add 100ml of cold water and bring into a ball of dough. Divide into 12 pieces and roll into balls.
When the time's up, loosen the stew with a good splash of water if needed, season to perfection, then transfer it to an ovenproof pan and place the balls on top. Pop the lid on and bake at 190°C/375°F/gas 5 for 30 minutes, or until hot through and the dumplings are fluffy and cooked. Serve with some seasonal greens.
Follow Douglas on Twitter
Circle Douglas on Google+

Previously on New Food: