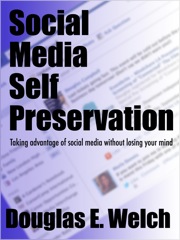 Description:
Social Media Self Preservation: Taking advantage of social media without losing your mind
7100 Words
Price: $5
Using social media as part or business or personal life can seem overwhelming and fraught with pitfalls. There is a way, though, to make the best use of social media without falling into the traps of lost privacy and social media burnout.
This guide explains what you need to know as you start your journey into social media and how to make social media productive for you.
The great thing is that is doesn't require a Kindle to read. You can get free Kindle software for nearly any device (Windows, Mac, iPhone, iPod Touch, Android, Blackberry) and read the book there.
Please share this with your friends using the email and social media icons below.
Table of Contents:
Introduction: Why Social Media?
Chapter 1: Which social networks should you join?

Be Found!
Reserving your name
A few social networks to get you started

Chapter 2: How to decide who to include in your online community

It is all about value
Where to begin building your online community?

Chapter 3: Maintaining your online community

Re-evaluation
No longer needed
People Change
Too much information
Information you can find elsewhere

Chapter 4: What to share online

Share your knowledge and expertise
Share your work
…but my work is secret!
Share your life
Balance in your social media sharing