Kindle Books now available for check out from the LA Public Library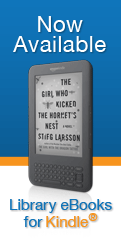 This started to roll out here in the US yesterday, but I see today that the LA Public Library now has the ability to check out Kindle format books via its online eBook Catalog.
Even if you don't have a Kindle, you can download free software to read Kindle books on almost any device including Windows and Mac computers, iPhone, iPod Touch and Android device. I have "checked out" several eBooks via the existing methods, but I think this Kindle method will open up the number of titles available and also make them easier to download and read.