<![if !vml]>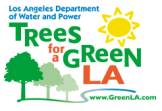 <![endif]>
<![if !supportEmptyParas]> <![endif]>
<![if !supportEmptyParas]> <![endif]>
<![if !supportEmptyParas]> <![endif]>
<![if !supportEmptyParas]> <![endif]>
<![if !supportEmptyParas]> <![endif]>
<![if !supportEmptyParas]> <![endif]>
Los Angeles Department of Water and Power
Trees for a Green LA
<![if !supportEmptyParas]> <![endif]>
Tree Availability List
Updated: 9/4/03
<![if !supportEmptyParas]> <![endif]>
Please Note: Order your trees from the list below when completing your tree order form. This will help to ensure that your selected trees will be in stock, and are available for delivery. Trees for a Green LA does not take back orders or track requests for trees that are not currently available.
<![if !supportEmptyParas]> <![endif]>
Deciduous Trees (Use Blue sticker on site plan)
For energy savings, deciduous trees are ideal to plant on the east, south and west sides of your home. They are ideal on the south side, because they drop their leaves in the winter, thereby allowing the sun to warm your home.
<![if !supportEmptyParas]> <![endif]>
Botanical Name

Common Name

For Very High

Fire Hazard

Zones

Water Use

<![if !supportEmptyParas]> <![endif]>

LA Climate Zones

Small Trees (under 25 feet tall)

<![if !supportEmptyParas]> <![endif]>

<![if !supportEmptyParas]> <![endif]>

<![if !supportEmptyParas]> <![endif]>

<![if !supportEmptyParas]> <![endif]>

Cassia leptophylla

Golden Medallion Tree

<![if !supportEmptyParas]> <![endif]>

Moderate

20-24

Chitalpa x tashkentensis

Pink Dawn Chitalpa New!

Desirable

Low

All

Krauter vesuvius

(Available as 15-gallon trees)

Purple-leaf Plum New!

Desirable

Moderate

All

Lagerstroemia hybrids

Crape Myrtle

Desirable

Moderate

All

Medium Trees (25-40 feet tall)

<![if !supportEmptyParas]> <![endif]>

<![if !supportEmptyParas]> <![endif]>

<![if !supportEmptyParas]> <![endif]>

<![if !supportEmptyParas]> <![endif]>

Mimosa

Desirable

Moderate

18-23

Raywood Ash

Desirable

Moderate

All

Jacaranda mimosifolia

Jacaranda

Desirable

Moderate

All

Koelreuteria bipinnata

Chinese Flame Tree

Desirable

Moderate

All

Sapium sebiferum

Chinese Tallow Tree

Desirable

Moderate

18-21

Large Trees (40 feet or taller)

<![if !supportEmptyParas]> <![endif]>

<![if !supportEmptyParas]> <![endif]>

<![if !supportEmptyParas]> <![endif]>

<![if !supportEmptyParas]> <![endif]>

Ginkgo biloba

Autumn Gold

Maidenhair Tree

Desirable

Moderate

All

Pistacia chinensis

Chinese Pistache

<![if !supportEmptyParas]> <![endif]>

Platanus racemosa

California Sycamore

<![if !supportEmptyParas]> <![endif]>

Moderate

All

Pyrus calleryana 'Bradford'

Bradford Callery Pear

<![if !supportEmptyParas]> <![endif]>

Moderate

18-21

<![if !supportMisalignedColumns]>
<![endif]>
Botanical Name

Common Name

For Very High

Fire Hazard Zones

Water Use

<![if !supportEmptyParas]> <![endif]>

LA Climate Zones

Small Trees (under 25 feet tall)

<![if !supportEmptyParas]> <![endif]>

<![if !supportEmptyParas]> <![endif]>

<![if !supportEmptyParas]> <![endif]>

<![if !supportEmptyParas]> <![endif]>

Eriobotrya japonica

Japanese Loquat New!

<![if !supportEmptyParas]> <![endif]>

Moderate

All

Rhaphiolepis 'Majestic Beauty'

Indian Hawthorn

<![if !supportEmptyParas]> <![endif]>

Moderate

All

Medium Trees (25-40 feet tall)

Agonis flexuosa

Peppermint Tree

Desirable

Low (costal);

Moderate (inland)

20-24

Callistemon viminalis

Weeping Bottlebrush

Desirable

Low

All

Laurus nobilis

Sweet Bay

<![if !supportEmptyParas]> <![endif]>

Low

All

Melaleuca quinquenervia

Cajeput or Paperbark Tree New!

<![if !supportEmptyParas]> <![endif]>

Moderate

20-24

Metrosideros excelsus

New Zealand

Christmas Tree

Desirable

Moderate (use only in coastal areas)

23, 24

Olea europaea

Fruitless Olive

Desirable

Low

All

Pittosporum undulatum

Victorian Box

Desirable

Moderate

21-24

Prunus caroliniana

Carolina Laurel Cherry

Desirable

Low (costal);

Moderate (inland)

All

Pyrus kawakamii

Evergreen Pear New!

<![if !supportEmptyParas]> <![endif]>

Moderate

All

Rhus lancea

(Available as 15-gallon trees)

African Sumac

Desirable

Low

All

Large Trees (40 feet or taller)

<![if !supportEmptyParas]> <![endif]>

<![if !supportEmptyParas]> <![endif]>

<![if !supportEmptyParas]> <![endif]>

<![if !supportEmptyParas]> <![endif]>

Brachychiton populneus

Bottle Tree

Desirable

Low

Cedrus deodara

Deodara Cedar

<![if !supportEmptyParas]> <![endif]>

Ceratonia siliqua

Carob Tree

<![if !supportEmptyParas]> <![endif]>

Low

All

Cinnamomum camphora

Camphor Tree

Desirable

Moderate

All

Ficus retusa 'Green Gem'

Green Gem Cuban Laurel

Desirable

Low (costal);

Moderate (inland)

All

Pinus canariensis

Canary Island Pine

Undesirable

Low

All

Pinus eldarica

Afgan Pine

Undesirable

Low

All

Pinus pinea

(Available as 15-gallon trees)

Italian Stone Pine

Undesirable

Low

All

Podocarpus gracilior

Fern Pine

Desirable

Moderate

All

Quercus agrifolia

Coast Live Oak

Desirable

Low

All

Quercus ilex

Holly Oak

Desirable

Low

All

Tipuana tipu

Tipu Tree

Desirable

Moderate

All

Tristania conferta

(Available as 15-gallon trees)

Brisbane Box

Desirable

Moderate

19-24

Ulmus parviflora 'Drake'

Drake Chinese Elm

<![if !supportEmptyParas]> <![endif]>

Moderate

All

<![if !supportMisalignedColumns]>
<![endif]>