Valley Carpenter Bee (female) (Xylocopa varipuncta)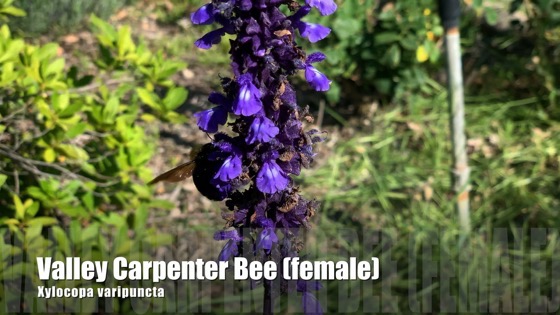 A female Valley Carpenter Bees (Xylocopa varipuncta) feeds on Mexican sage in my garden a few days ago. I was out working to clear up a mass of grass and weeds caused by the rainy year we have had when I spotted her nearly in my face. I took a break and watched for quite a while she fed.
This sage was a recent addition to the garden, specifically for use by bees and hummingbirds, so it is great to see it being put to use.
From Wikipedia…
Xylocopa varipuncta, the valley carpenter bee, is one of three species of carpenter bee found from western New Mexico to northern California.[1] Females are a metallic black while males are fuzzy and gold with green eyes. They are the largest bees found in California,[2] growing to around 1 inch (2.5 cm) in length.

A distinguishing characteristic that uniquely separates X. varipuncta from other species of bees is their ability to thermoregulate. This allows them to fly at very high temperatures without overheating and at low temperatures without freezing.[3] By modifying their foraging patterns and flying between different altitudes depending upon temperature, the valley carpenter bee is able to adapt to very different environments through predisposed behavioral patterns.[3]
* A portion of each sale from Amazon.com directly supports our blogs
** Many of these books may be available from your local library. Check it out!
† Available from the LA Public Library
Podcast: Play in new window | Download
Subscribe: RSS