Bugs and Brews – May 24 – Jun 21
Thursday Nights, May 24 through June 21, 6 – 8:30 p.m.
Tickets: RSABG member $10, public $15
Admission includes one free pint of Dale Bros., beer.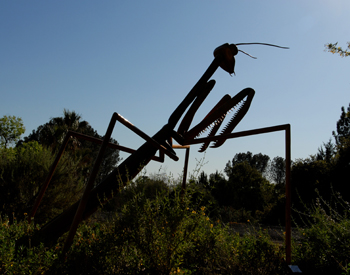 Local brothers Curt and Andy Dale bring their distinctively California beers to California's native garden. Local musicians provide the soundtrack to the Garden and David Rogers' BIG BUGS playful art exhibition. Learn fun facts about the Bug-of-the-Night and enjoy the Dale Bros., featured, handcrafted beer.
Enjoy the Garden while sipping suds and taking in the native beauty of Rancho Santa Ana Botanic. Ticketed guests receive free tasting samples and one free pint of featured beer provided by Dale Bros. Brewery and free light snacks; additional pint servings may be purchased for $5.
David Rogers' BIG BUGS art exhibition includes 25-feet-long ants, a towering 18-foot praying mantis, a dragonfly with 17-foot wingspan.
This event is sponsored, in part by, Dale Bros. Brewery.
The fine print: 

Ticket price includes parking, evening admission, and complementary beer tasting. Additional full servings may be purchased. One free pint included with ticket price.
Gates open at 6 p.m.
Must be 21 or older to attend and must show proper identification. No exceptions. Children will not be admitted even if parent or guardian is present.
Purchase tickets at the admissions kiosk or charge by phone. No refunds or ticket exchanges. In the event of a weather-related event cancellation, tickets are valid for: 1) Entry to another Bugs and Brews evening or 2) one regular Garden Admission, valid one year from date of cancelled event (not valid for ticketed events). No outside food, beverage or alcohol may be brought into the Garden.